Posted by Nathan on 18th Sep 2014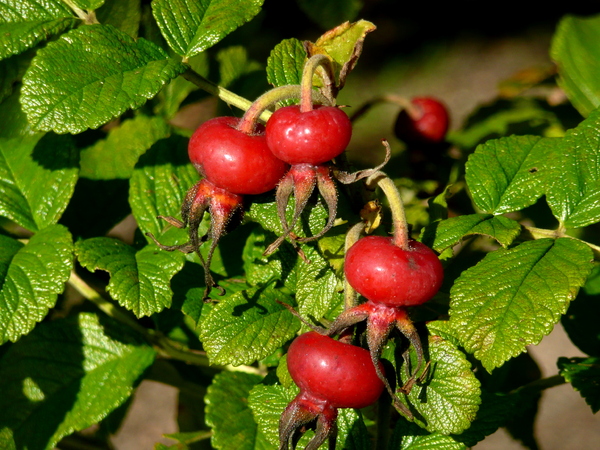 A little over a week ago, I harvested the bulk of the hips from one of our rose bushes. Given the tangle of branches that have developed over the past few years from lack of pruning, the harvesting process was somewhat painful. When I was finished, my arms were filled with small scratches, but my bag was also filled with nutritious, medicinal rose hips! After a few days of aloe applications, the scratches were healed, but next year, I'll try to be more careful - and less excited perhaps - while picking.
Rose hips are the tasty end points that follow flowering. They're so loaded with vitamin C that they outrank oranges by a two to one margin. They also contain Vitamin A, calcium, iron, and other beneficial minerals. Given that we're slowly sliding into cold and flu season, Rose Hips are a great immune system tonic to have on hand.
I have a jar of tincture brewing as I write this, which will be available at NGTHerbals in a matter of weeks. Rose Hips can also be added to your favorite tea mixture, not only as an immune system support, but also for flavoring - especially with dull or bitter herbal blends. The fruit acids and pectin content in Rose Hips can also aid in relieving symptoms of kidney disorders, and their antioxidant content supports heart and general tissue health.
Right now is the time to harvest Rose Hips. Seek those that are orange or bright red. They get sweeter if left on the plant until after the first frost, but if you opt to wait, make sure you pick them very soon after, because they tend to go brown rather quickly. Because the weather here in Minnesota can, and often does, turn on a dime, I usually pick some of my hips while they still have some green on them. Overall, this had made for less sweet medicines and teas, but it's been worth it to have them available during the long winter months.
I often tell people that when I pick Nettle, and it stings me, it's the plant teaching me, and testing my willingness to be in close relationship with it. The same can be said of Rose Hips. Even if you prune your Rose bushes well, it's difficult to avoid getting spiked all together. And that's ok. Learning to love whole plants, even the most difficult parts, is opening up to being healed as far as I'm concerned.
May you be blessed with Rose Hips this autumn!